Girl band member, actor, West End Star and now fashion designer. Victoria Evans met the multi-talented mother of two to celebrate the launch of Kimba Kids.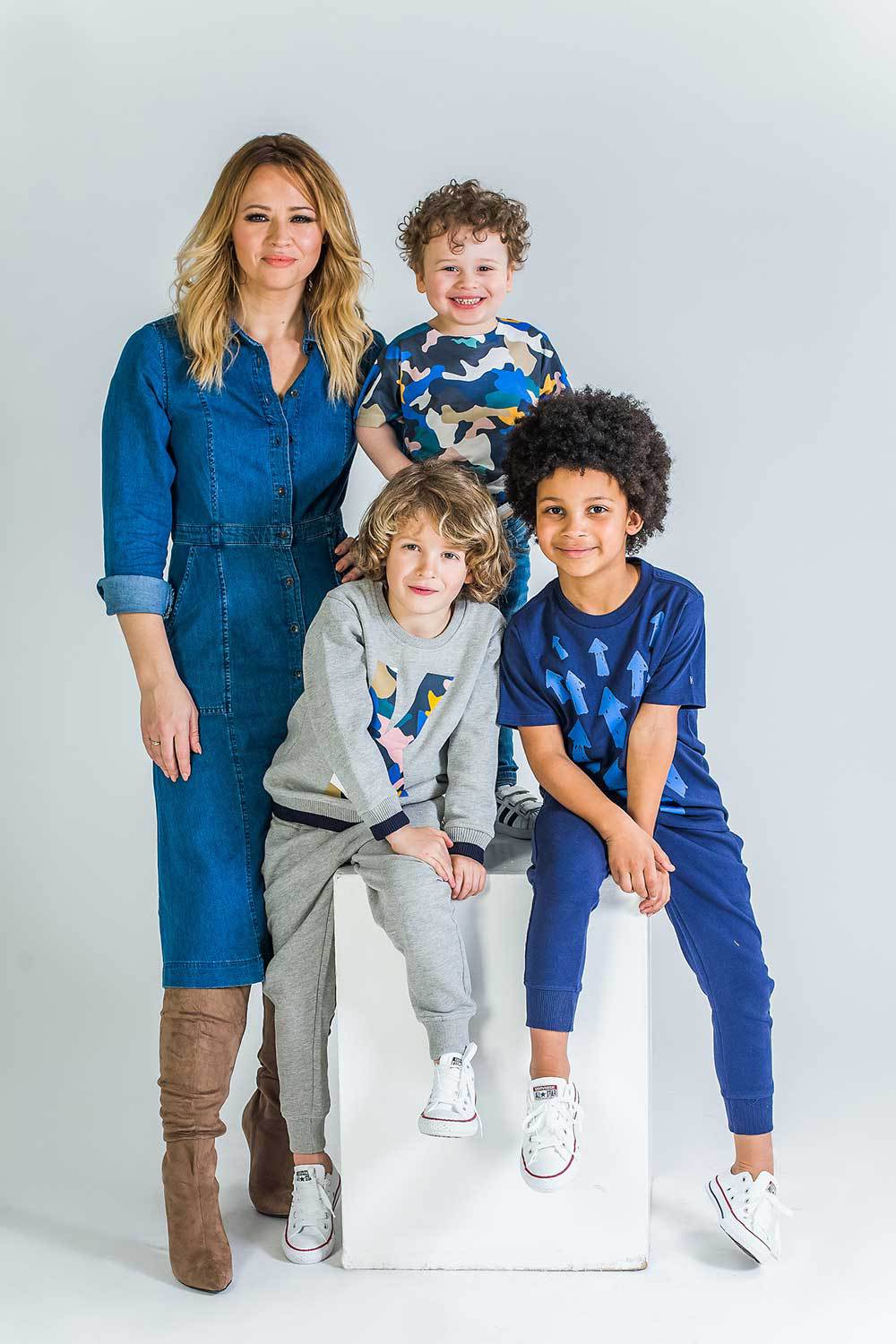 What's the inspiration behind Kimba Kids?
Let me go back to the start. So my brother is the managing director of a company that make, design, manufacture, and distribute clothes so obviously I knew that I had a lead in to this and with Bobby, my oldest son I just found it really boring buying boys' clothes. I really wanted a little boy, so it's not like I'm one of these women who wanted a girl to dress up, it wasn't that, I just felt they don't suit him, there's all this nautical stuff like everywhere, which is fine, but it's a bit preppy-ish and felt like he's a blonde, blue-eyed mixed-race little boy and felt like I actually want him to be able to express himself a bit more and wear things that are a bit more fun and colourful and that's where it came from.
So I approached my brother and was like, "How do you feel about trying to launch a new brand with me so that we can use all your facilities to do so. And he was actually really up for it. As much as his job is so intense and full-on as he's distributing to Next, ASOS, constantly meeting deadlines, I think this was more of a passion project for him. It's been hard for him because there aren't enough hours in the day but we've done it. It's taken a while…we fully started it when Bobby was about 16 months and I was doing Elf at The Dominion over Christmas and because it was my first job back, I had a bit of time to actually think for myself again. There were times when I wasn't on stage where I was able to start the design process and I would meet the designer between shows on the two show days.
So it has taken a long time to get it to this point – he's nearly four now! I thought you just hand-picked designs from a rail and Adam was like no, we need to design them, we need to draw it and come up with every colour, fabric. One day we literally spent the entire day going through thicknesses, choosing colours, and I asked him, is this your life? And he was like, yeah, pretty much. We do have to do this every time. It's interesting as I had absolutely no idea it would be so time consuming.
Perhaps there are other sides to the business you prefer?
Exactly, I prefer the design and can you send me a sample back? But it's not that easy. I feel like we've found a good place now, where we both feel like we know what the brand is, I'm very sure of what I want it to be. He'll sometimes throw something in like What about trying this? And I'm like no, it's not me. I wouldn't put my kids in it – it may be popular at the moment, but I just want to stay true to what I am and the design process will be easy. If I take it on a tangent that's following something else, it's always going to be hard to bring it back to what it's supposed to be in the beginning.
Because of the fashion connection through your brother did you ever consider doing womenswear?
Well that's something we're talking about now because we can. There's so many opportunities there because of the way I work with his company. Right now, the priority is getting Kimba Kids off the ground and hoping that we can make this work. We've already got our Spring/Summer in for sampling and that was really fun and exciting and doing it now that we've got to this point. So we'd need the time – this has become over the last 6 months like a full time job and it's one of those that you can sort of do with the kids around but there are times when I'm like I just need to answer some emails when they're not like screaming at me or something. There are certain things that you have to do so that they go to bed but you can do it around the kids which is why it's brilliant. I have taken the kids into meetings before because it's my brother but mine cause a lot more…there's picnic mess all over the floor, or like rails and clothes boxes barricading the stairs so they can't fall down. This is not ideal but if childcare lets you down which is what happened to me, we'll just bring them. My brother was like, yes, it'll be good to have their input. They'll be interested for about 5 minutes and then he'll be like where's the guns or weapons I can play with?
So what are your favourite pieces?
For me, my favourite piece for the boys.. As we knew this was going into Autumn/Winter we wanted to do a slightly different tone so we've got an aubergine tone camo. And for the girls I love the twinset.
What are your hopes for the brand?
It's really crazy at the moment because no one really knows what's going to happen at this point. It has been a family passion project. It's hard because we both care about it so much so obviously we really want it to do well. I'm realistic. I don't know how this business works so obviously the fact that Next have endorsed it as big as they have gives us hope that it will work because I don't think they'd take huge numbers of something that wouldn't work.
Your brother presumably was able to advise?
He would know to a point, but they would know more because they sell kids wear every day and he does adult stuff. They were very excited about it. We went to them first as we felt that it was a fit for their stuff and I do still think it sits really well with all of their stuff. But they have gone above and beyond – they've had opinions on stuff that really helped us, little branding things, they wanted it to be branded because they said if people are buying into you, they want to know that it's yours. You've got to offer something that isn't already there, which we know. So we feel like together, we've got it to this point and now we want to see it on other children and know that people have actually chosen to buy it themselves. That'll be so exciting – we'll have to get everybody to send pictures into me.
How would you describe your parenting style?
Manic! I'm such a calm person. I genuinely think I'm one of the most chilled people. But my boys can drive me to places that I never thought were possible. And it frustrates me if I feel like I've lost it, that's just not me. But sometimes at bedtime, the way that they taunt me, I'm like "you just want me to break so that you can laugh at me", but I can't cope! I try to be relaxed. I'm very loving, which I'm sure most mums are, but I feel like they do respond to that. I'm terrified of the day my boys don't want to get in bed and cuddle me in the morning. Its my favourite time of the day. My brother who I'm doing this with still gives my mum a cuddle – it's quite cute. I'm not going to lie, they're really hard work at the ages that they are, they do not stop, they don't sit still for five seconds. And I wonder which one I should protect. Bobby's older and he'll go and do something where he could hurt himself. If I'm at a park who do I protect because he'll go and climb a climbing frame where he's in full danger if he falls from it, but then Cole is tiny so I an't leave his side so usually I'm like Stop! Grab Cole and try to help Bobby down the clmbing  frame down. I feel like a lot of the time I look at myself in day to day situations and think what would anybody think if they could see me now, but is that just parenting of two young boys?
What advice would you pass on to a new mum?
Don't put pressure on yourself. Every mum thinks they have to be the perfect parent and everthing should be as the books say it should be. You cannot ever read something and be that person because every child is so different. Even seeing what my two boys are like – Bobby was so chilled out I could have gone to a hygienist appointment and he would have just sat in his pushchair and just watched. Cole would have just screamed blue murder, it just wouldn't happen so already they have the personaliies so you have to adapt to them. Don't put too much pressure on yourself to be perfect because I don't hitnk any of us are. We all lose our [shit] every so often don't we.
Three words to describe yourself
Relaxed – all good things of course – warm and tired. Always tired.
Last book you read
I don't read, there's no time in my life for reading but I did read Giovanna Fletcher's baby book ages ago. Weirdly because it was so relevant to me I actually really enjoyed it. I was reading it and thinking I'm reading about my own life, but there's some comfort in it, that's why she's so popular, because she's so honest. All the breastfeeding stuff you know I had a really hard time of it as well. Nobody tells you, even my own sister never really talked about it very much. I didn't get that at all. But she was like I think I was so terrified that was almost…I think that the more we talk about it the better. You think that they're supposed to latch on and it's all lovely. I've never felt pain like it. Obviously it is a nice thing, it's a labour of love.
Tell us one thing nobody knows about you.
I used to make my own clothes and sell them to my friends. My mum used to make clothes all the time, the sewing machine was always going. In the 80s with four kids it was tough financially so she made a lot of our own stuff. So I started making wrap around skirts, palazzo pants and scrunchies and people started putting orders in on our estate. I used to put the scrunchies on a big tube and take them to school and sell them. I was a right Del Boy even then!
Signature dish?
I'm not good at inventing my own things, but I am good at making something taste the way it's supposed to taste. There's a really nice Thai coconut sea bass recipe in one of the Leon books, which is really easy. You can prepare it earlier, put in the parcel and then they cook in 15 minutes and it looks like a really well thought out meal.
Who inspires you?
It's a cheesy thing to say but my mum really does. I've got a new found respect for her since having children and trying to work with the kids. She had four and she was on her own because my parents split up when I was young. She always worked full time, she always did extra things after school like piano lessons for people to make extra money. I don't know how she did all of that with the addition of financial worry and no partner to support her. So when I get stressed or think that life's getting a bit tough I think, " come on, think about what it was like for your mum, it was so much harder for her and she's like happy now, we're all happy and she's getting the payback through us now I suppose. I think of her as a role model when I start to get a bit delusional as to what's going on in life.
What's next on your list of things to do?
I do do a lot of different things. I've been really lucky, I even got to do Strictly. There's nothing really left that I desperately want to do. To be honest, if Kimba Kids works the way we hope it will it will be a much bigger focus for me over the next year because I'll need to go full throttle if it works ans stuff. We've loads of ideas for interim things we can do around Christmas which all takes time and thought.
What are your memories of school?
I actually liked school from a social point of view. I was never sporty so I hated that side of things. I'd always find a way to get out of cross country. Generally I was lucky to be academic enough to get through without working too hard but I was never way up there. Because I was relatively clever but not expected to do amazingly well, I think you can enjoy school a bit more. You get grades that people are happy with, but you can also socialise without feeling too much pressure.
Memories of school dinners
We had really good school dinners. I always remember my middle school dinners were really good. They always did the best puddings, proper northern puddings like cornflake tart – a suet pastry base with jam and cornflake and treacle – and jam roly poly. Everyone who went to my school still talks about it.
What would you take to a desert island?
My kids, although it would be tempting not to! I can't actually bare to be away from them for too long so they'd have to come, for help with the childcare. Music because I could keep them entertained and I can't not be around music, so some sort of music system. And alcohol to get me through.