Sweets, chocolates, craft or Christmas story. Here's the City Kids guide to advent calendars for kids of all ages.
You may not have started your Christmas shopping yet, but you'll need advent calendars well ahead of time. We've scoured the stores and here's our guide to some of our favourites.
Milledeux
Choose between the gold or silver range of luxury hair accessories inside every drawer with the advent calendar designed to be used each year filled with new treats and surprises.
milledeux.com
Advent of Change

The Children's Advent Calendar is designed for the whole family to enjoy and understand – with bright colours and child-friendly language to help them learn about giving back whilst counting down to Christmas. 24 charity donations included in the price.
adventofchange.com
Anorak Colouring in Advent
Anorak Magazine's 2020 Happy Advent Calendar, illustrated by Ben Javens, is all about colouring one day until Christmas arrives. A2 size.
anorakmagazine.com
Cotton Twist Mindful Advent

24 decorations to paint and a perfect way to occupy the kids in the frantic run-up to Christmas. £16.95
cottontwist.co.uk
Playmobil Christmas Toy Store Advent Calendar

Based on a Christmas toy shop, open a door a day to discover what's inside. £19.99.
playmobil.co.uk
Vtech Toot Toot Advent Calendar

This from Vtech provide 24 fun play pieces including a cute Toot-Toot Drivers Sleigh. £49.99
amazon.co.uk
Disney Storybook Advent Calendar

Unwrap (yes, they're already wrapped!) 24 seasonal Disney books of the most popular and festive stories, including Olaf's Frozen Adventure, Monsters Inc. Christmas Laughs and many more! £19.99
hobbycraft.co.uk
Organix Advent Calendar
Behind each door you will find a scrumptious Organix snack Jammie Monsters Biscuits and Mini Oaty Bites Raspberry & Apple. £8.99
shop.organix.com
Mr Men and Little Miss Books Advent Calendar

Another one for avoiding the sweet treats with a blast from the past and the Mr and Little Misses. £14.24
bookdepository.com
Peppa Pig Advent Book Collection
Countdown to Christmas with a new mini storybook featuring Peppa Pig, George Pig and all their friends. And there's a special Christmas Eve story on the final day. £19.99
waterstones.com
Candy Kittens Christmas Advent Calendar Tree

If sweets are your thing, put up your tree and enjoy a daily sweet treat. £8
candykittens.co.uk
Play Doh Advent Calendar
Creativity and Christmas: match made in heaven. Just don't mix the colours! Or is that us?! £16
next.co.uk
LEGO® Star Wars™ Advent Calendar

Lego have an array of advent calendars available this year, but we're Star Wars til we die! £24.99
lego.com
Paperchase Stationery Advent Calendar

Why have sweets when you can have stationery treats? We stole that line from Paperchase, but it's a good one! £40
paperchase.com
Lakeland Bethlehem Advent Calendar

Shall we all take a minute to remember why we celebrate Christmas? This is a lovely way to share the story of the nativity with your kids. £69.99
lakeland.co.uk
Vegan Popcorn Advent Calendar
Opens like a giant Christmas storybook and depicts a snowy scene of Joe's Popcorn Kitchens at Christmas time. £25
joeandsephs.co.uk
Smiggle Advent Calendar

Containing 25 limited edition goodies from slapboards to glitter glue and scented stickers. £28
smiggle.co.uk
Wooden Gingerbread House Advent Calendar

This one's a keeper for many Christmasses to come. £79
ellajames.co.uk
Crayola Christmas Countdown Calendar

Perfect for those who'd prefer a project or some art. £18.01
amazon.co.uk
Mummy Meagz Vegan Advent Calendar

For those who can't have dairy, this should fit the bill quite nicely. £4.99
hollandandbarrett.com
Up To Snow Good Kids' Advent Calendar


Inside there are 24 penguin, Santa and snowman sweet treats hidden behind classic cardboard windows. £8
hotelchocolat.com
Personalised Activity Advent Calendar

Keep the kids busy by filling each of the 24 holes with festive activities like making paper chains or baking Christmas cookies. There are suggestions or you can pick your own. £37
notonthehighstreet.com
Happyland Advent Calendar

Suitable for little ones from 18 months, they get to keep a new Christmas figure each morning including Santa, a penguin and a teddy. £23.99
elc.co.uk
BrainBox Christmas Advent Calendar Game

A little different, why not test your knowledge each day with this Christmas facts game from Brain Box. £10
johnlewis.com
City Vehicles and Accessories Advent Calendar

This is great for lovers of vehicles from cars, buses and fire trucks. £25
johnlewis.com
Play in Choc Advent Calendar

24 drawers containing a vegan milk chocolate, a 3-D puzzle toy and a fun facts card. £55
playinchoc.com
The Make Arcade Craftvent Calendar

Behind each door you'll find a kit with enough to make a different decoration each day. £55
johnlewis.com
Personalised Vintage Wooden LED Bus Advent Calendar

This is such a beautiful advent calendar to be enjoyed many years over. Needs 2 AA batteries. £48.00
lisaangel.co.uk
Meri Meri Enamel Pin Advent Calendar

Each day will reveal a colorful enamel pin, that can be worn over and over again for lots of fabulous accessorizing. £34.00
merimeri.co.uk
Woodland Animal Scene Advent Calendar In Suitcase

Such an adorable set of woodland animals including a racoon, deer, fox, badger as well as toadstools and more. £35.50
berylune.co.uk
The Nutcracker Advent Calendar

Tell the traditional Nutcracker fairy tale with this advent calendar which reveals toys and props from the ballet. £13.00
berylune.co.uk
Cam Cam Copenhagen Christmas Advent Calendar


Stylish re-usable advent calendar waiting to be filled with treats. £48.00
naturalbabyshower.co.uk
Fabelab Advent Calendar – Town House £27.95

Fill each of the 4 houses with just the presents or treats that makes Christmas time magical for your little one. £27.95
scandiborn.co.uk
Lindt Teddy 3D chocolate advent calendar


I mean. I big Lindt Teddy advent calendar. Yes please. £21.99
selfridges.com
Cadbury Heroes Chocolate Advent Calendar

Something for the whole family here. £4.00
waitrose.com
Light-Up Felt Reindeer Advent Calendar


Looking for an heirloom piece, this could do the job, installed with six lights for a magical touch. £24.95
libertylondon.com
Soap & Glory 24 Days to Roam The Foam Advent Calendar

Keep the teens happy with this joyous creation from Soap & Glory
boots.com
Christmas Countdown Decoration


Not strictly an advent calendar, but something if you don't go in for a gift each day. £12.50
marksandspencer.com
Fabric Gingerbread Advent Decoration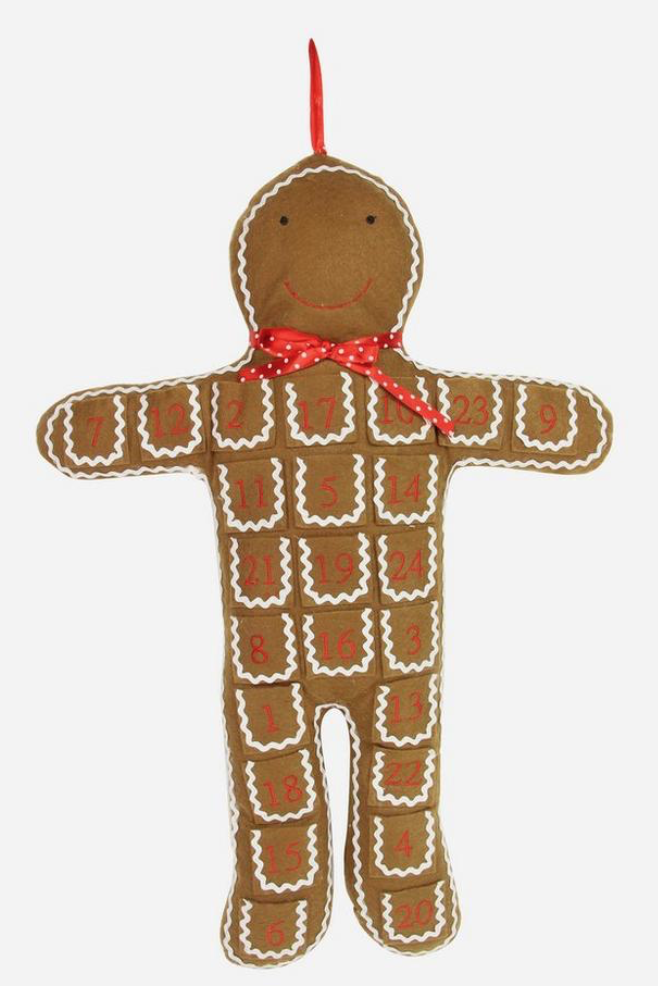 We couldn't resist Gisela Graham's gingerbread man. £39.95
libertylondon.com
Advent of Change
The Children's Advent Calendar is designed for the whole family to enjoy and understand – with bright colours and child-friendly language to help them learn about giving back whilst counting down to Christmas. Follow the rainbow-trail to help little ones locate each number. Just for fun, Santa's tree decorations are hidden behind the doors. Can you find them all?
Want some half term inspiration? Check out our Half Term Guide.