City Kids Sun Care for Kids
Sunshine is incoming and holiday or no holiday, it's time to stock up on that outdoor essential, sunscreen. Our guide includes some familiar faces as well as brands not always found on the high street, plus there's plenty of choice for those wanting reef friendly ingredients. Here's our round-up of sun care for kids: the best creams, sprays and roll-on products to keep children's skin protected and happy…
Lancaster Sun Sensitive Face and Body Sun Protection Cream For Kids SPF50 150ml, £24.00, Look Fantastic
Great for: Water babies
This clever pump dispenses a fine mist of fast absorbing milky spray that gives high protection for sensitive skin and can even be applied to wet skin! It is also fragrance free, tear free and has inbuilt anti-sand performance. Oh, and it's reef friendly too!
Supergoop Play Everyday Lotion SPF 50 with Sunflower Extract ( 71ml ), £20
Great for: Teens
A gel-textured lotion that sinks in like a dream and smells absolutely gorgeous. Great for sharing with older kids who will love the delicious smell, the cool packaging and the reassurance that this is a coral reef-safe product.
Avène Very High Protection Lotion for Children SPF50+ Sun Cream for Sensitive Skin 100ml, £16, Boots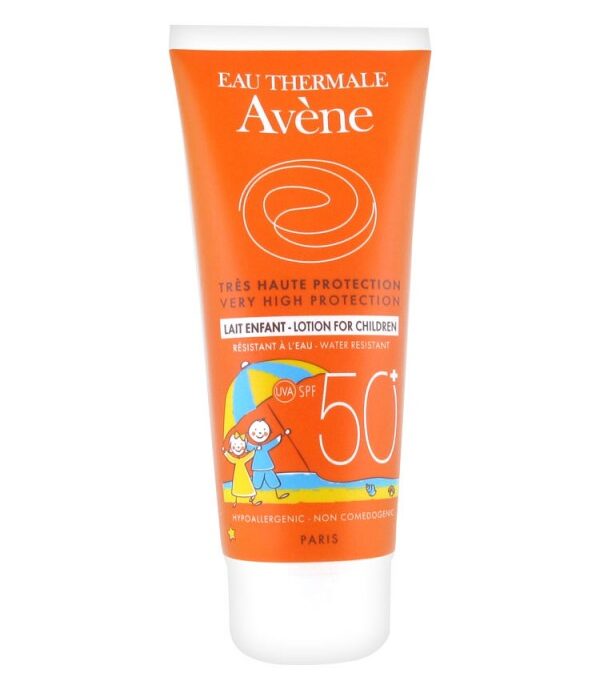 Great for: Sensitive and very fair skins
Avène's products are fantastic quality and their kid's suncream is no exception. It sinks in easily, leaving no white smears and gives great coverage. Developed for very fair and sensitive skins it contains their famous Avène Thermal Spring Water, which heals and soothes and is very water resistant while being ocean friendly.
Alba Botanica Kids Sunscreen Tropical Fruit Clear Spray SPF50, £12.79, Big Green Smile
Great for: Fidgety Kids and eco-conscious families
 This yummy smelling, eco-friendly air-powered spray is super easy to apply at any angle and is especially great when you have a gaggle of fidgety kids waiting for a coat of sun cream! It contains no synthetic fragrances, artificial colours, harsh sulfates, parabens or phthalates and is ocean friendly.
Soltan Kids Protect & Moisturise Lotion SPF30 200ml, £4.00, Boots
Great for: Excellent Value
If you know you're going to be slapping on sun cream, all day long, week after week, then this fail-safe formula that gives great protection, smells lovely and is incredibly well priced is a great option. Extra retro points awarded for the smell that instantly transports us to a Spanish beach in the 90's! 
Nivea Sun Kids Sun Cream Green Coloured Roll-on SPF50+ 50ml, £8.50, Boots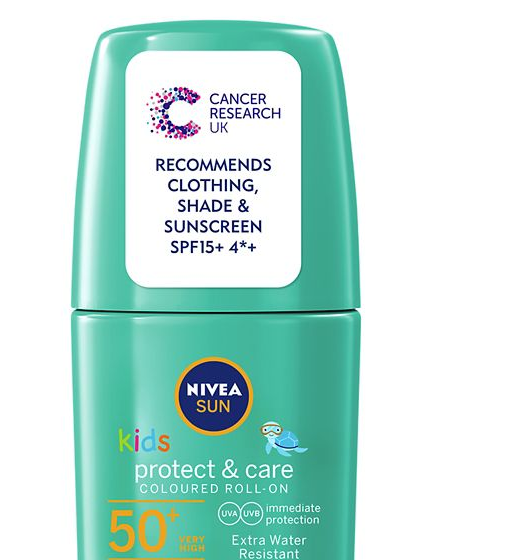 Great for: Keeping track and getting kids excited about suncare
Keeping track of where you have and haven't applied sun cream is never an issue with this tinted formula that leaves a distinctive green coating that gradually fades away. Kids seem to love coating themselves in this coloured goo, so bribery and chasing are not part of the process. The handy roll-on dispenser means that they can't pour out too much cream. It comes in pink too!
Jason Kid's Natural Sunscreen SPF45 £12.99, Jason Natural Care
Great for: Adventurous kids and eco-conscious families
This tear-free, water-resistant and hypoallergenic formula was developed for children's sensitive skin and provides long-lasting protection for kids who love to go on adventures. This product contains no oxybenzone, octinoxate, gluten or parabens, is biodegradable and is reef safe.
BabyGanics Mineral Based Sunscreen Lotion SPF 50+ 2 Oz (59 Ml). £11.90, Vitamins UK
Great for: Wriggly babies
If you're worried about accidentally smearing cream in your little one's eyes then you'll be reassured to know that this is a tear free formula! A robust, mineral-based, water resistant sunscreen that rubs in easily and provides great high factor protection. Free from PABA, Phthalates, Parabens, Fragrances or Nano-Particles this is people and reef friendly.
Attitude Little Ones 100% Mineral Sunscreen SPF 30 Fragrance Free, 64ml, £16.99, Ocado
Great for: Anyone who prefers gentle, fragrance free products that are kinder to the planet
This fragrance free, mineral sunscreen is made with 100% non-nano zinc oxide which is considered one of the safest sunscreen options available. We love the fact that it's non-greasy, clear and sinks in easily as well as being sustainable, biodegradable and reef safe. 
Childs Farm SPF 50+ Roll on Sun Lotion 70ml, £7.99, Boots
Great for: Babies and kids who like to apply their own sun cream
This water resistant roll-on sun lotion is super easy to use and is great for kids with an independent streak who want to apply their own cream. A lovely fragrance free hydrating formula that contains no artificial colours, parabens, SLSs or mineral oils. Suitable for babies and children from 6 months upwards.
Saltee Sea & Sun Formula SPF50 Saltee Sea & Sun Formula, 50ml, £29, Saltee
Great for: Families who like to multitask
This gorgeous smelling sun cream with naturally derived UVA and UVB protection is light in texture and absorbs into the skin super quickly so that kids can run off and play ASAP. Brilliantly, the cream doubles up as an after-sun too and the cooling cucumber extract is great for hydrating the skin.
Reef friendly.
Naïf Natural Skincare Baby Sunscreen SPF 50 – 100ml, £23, Smallable
Great for: Biodegradable packaging fans
This fab Dutch skincare brand for babies has created a gorgeous eco-friendly sunscreen that is super gentle on delicate skin and contains no harsh chemicals or ocean polluting ingredients. The packaging is made from Cane sugar so it's biodegradable!
Green People Sunscreen Organic Children Scent Free Sun Cream SPF30, 150ml, £21
Great for: Families who love organic and eco-friendly products
Families who want the reassurance of a brand that is committed to using organic ingredients and preserving the planet will love this super effective, non greasy, reef friendly cream which is suitable for sensitive skin and prickly heat. It comes in fully recyclable plant-based packaging and for every sale, 20p will be donated to the Marine Conservation Society. Bravo!
Header image: Leo Rivas