12 super cool gifts for your furry friends
It's no secret that we're pet lovers here at City Kids HQ. We reckon that we have five dogs and two cats amongst the team, all with their own personality traits and neuroses! Combine that with our love for all things Christmas and this is the end product, 12 fabulous Christmas gifts for cats and dogs.
Gifts for Cats
Notoriously hard to please, cats are tough customers. So if you want to get it right, these Christmas gifts ought to get even the toughest tom cat purring.
Catnip Xmas Pudding Toy, £12.50
Danish Design Pet Bed Teepee, £56.99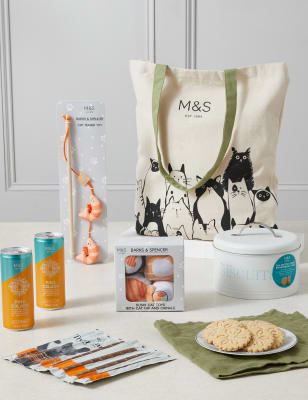 Treats For You & Your Cat Gift Bag, £30
Hiro + Wolf X L&L Cat Bow Tie, £6.99
ForeWan Cat Head Massager, Soft Silicone Brush Head Gentle Massage Usb Charging Electric Pet Massager
Cat Scratch DJ Decks
Christmas Gifts for Dogs
Dogs are always a little more grateful than their feline counterparts, but they're a bit harder work. That's why our Christmas gifts for dogs features some items, really meant to make your life easier.
Eleanor Bowmer X Pawsome Paws Boutique – Dog Poo Bag Holder – Cosmic Gems, £10
Christmas Luxury Hamper, £70
Christmas Woodland Pet Pyjamas, £16
Paws Off Love Heart Plushy Dog Toy, £10
Khaki Green Dog Raincoat, £39
Kysler, Hexagonal Re-processed Fabric Pet Bed, Medium, Pale Pink, £49