City kids spoke to Cocoa's Serlina Boyd to see what drives her, how she deals with criticism and what's next in store for the Cocoa brand.
Serlina Boyd launched Cocoa Girl and Cocoa Boy, the UK's first black children's magazines after her daughter experienced bullying at school. Her daughter, Faith, is heavily involved in the empowering and positive content created for children like her who have been misrepresented by mainstream media. Now Serlina has written Cocoa Girl Awesome Hair, a step-by-step guide to styling textured hair.
Tell us what inspired you to write Cocoa Girl Awesome Hair?
In terms of my daughter Faith I felt that I needed to do something. Growing up, I wished I had different hair and for her to be growing up and saying the same thing – 'Mummy, I wish I had different hair'. That's why it was good to do the book. Faith was really instrumental in picking the hairstyles for the book too.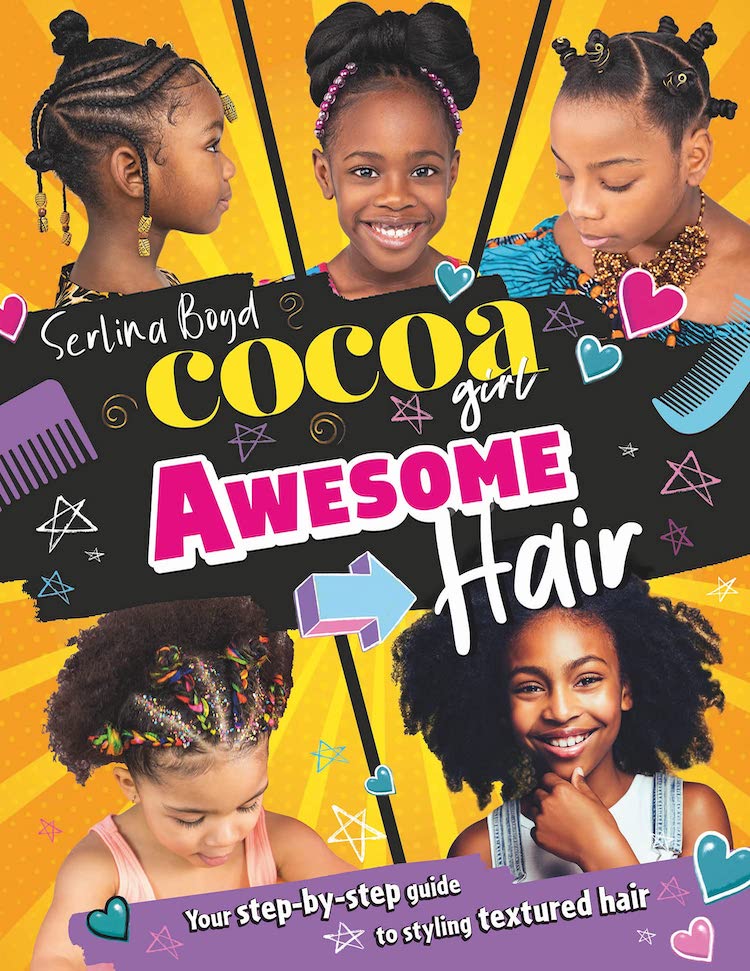 What is Faith's favourite hairstyle in the book?
The Feed-In Braids were the ones she picked as she used that hairstyle to give her hair a break. Because of the love of her hair, she was styling it about seven times a day. So, I told her she wouldn't have any hair left if she kept over- styling it, and we needed to look at ways of protecting her hair. That's when we started to discover all of these hairstyles.
A lot of the styles are fun, like the Fro Hawk. It's really for children to embrace who they are and to have fun styling their hair. That was really important for us.
We love that you've included black hair history in the book.
That was really important for us as over the years we have been told what to do with our hair, so I wanted to show how far we have come and for the future it's about you. At the back of the book, we have all of these children with their hair in afros to show that we have come far. I'm so happy that the book is here and that so many children and adults want it.
Are you bringing out a version of the book for boys?
I think that could happen and it's something I would like to do eventually.
How did you come up with the concept of Cocoa Girls and Cocoa Boys?
My daughter was having such a hard time at school, and I was really mindful about what I was putting in front of her, whether that was books or the TV. So, during lockdown, I thought I was going to be even more on it with what she was reading and watching. We went to the supermarket, and I was going to find a magazine that was going to affirm her, as she was going through so much in terms of her confidence and how she felt about herself. The shock of going through magazine after magazine and not seeing anything relevant made me think there's got to be something here and that's how Cocoa was born.
I had written a book before the magazine was created which celebrated girls like Faith which got some media attention, but not as much as the magazine. The death of George Floyd changed things and an influencer posted my book saying that if you want to teach your children about racism buy this book. I was already working on the magazine and I thought this is the time to show the world my magazine and it went completely viral.
Did you feel that you had to bring out a version of the magazine for boys since you had one for girls?
I felt that we needed something for boys, and they are different when trying to put content together. It's been received really well, and our most popular edition is when we featured Raheem Sterling, Jadon Sancho and Bukayo Saka and Marcus Rashford on the front cover.
How have you dealt with any criticism after calling the magazine Cocoa?
Cocoa is my brand, and some may not like the name, but the majority of people love it. If there was such an issue with the name, we wouldn't be a part of The Bug Club library and so many different schools. People are finding problems with an issue that is not really there.
You champion Black representation in the media. How did you find being in publishing which is not traditionally a diverse sector?
I started off in publishing and it was very difficult. I wasn't able to be promoted or pushed up the ladder as quickly as I wanted.
So right now, I want to help children to get into publishing from a young age. That's the goal of the magazine and to really make sure that children are exposed to this world so there is a change, because publishing is very white. I'm so glad that I'm a judge at the PPA awards and I was the only one in the room, but I'm glad that I'm uncomfortable so that those coming up behind me won't be uncomfortable and it will be normal.
You must be proud of your achievements despite of the adversity you may have face?
There are times I want to pinch myself.
What can we expect from you next?
Next is TV. We've been in talks for a few months now. And my charity Cocoa Dream, which will be championing and sponsoring children so that they can afford to go into private education and thrive.