Get ready for spring showers with expert advice from Start-Rite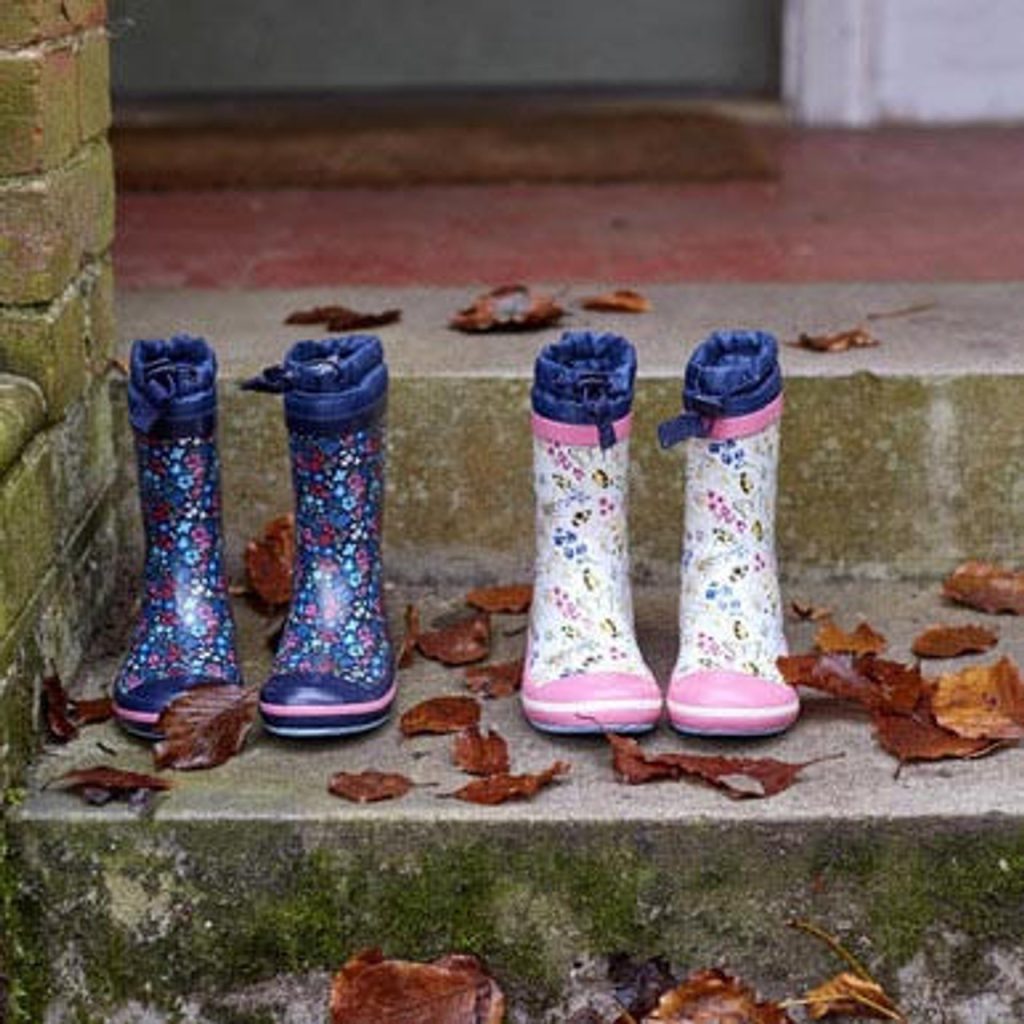 Wellies are must-have footwear for children of all ages. Perfect for keeping young feet dry, clean and warm year-round when out and about playing and exploring during wet weather. In fact, they even come in handy when the sun is shining if the ground is muddy or it's time for splashing in puddles from spring showers.
To get the most out of a pair of wellies, there's some simple steps you can follow.
Get the right pair
To start with, make sure you get the right fit for your child. Choose wellies in your child's shoe size, then make sure they fit comfortably around the calf as well as the foot. They should be loose enough to be comfortable on the move but tight enough they don't slip off. Make sure you try them on when your little one is wearing thick socks. Most wellies don't have insole padding like shoes do, so thicker socks are ideal for comfort as well as warmth in the colder months. You don't need to size up to allow room for thicker socks, all Start-Rite shoes and wellies have growing room built in. 
Then the fun bit, choose a colour and design that they'll love and there'll be no persuading them to put them on! In terms of style, those with an elasticated top are great for puddle jumpers to keep the feet dry and handles at the top are perfect for little hands that want to put on their own shoes.
Keep them looking as good as new
This may sound a little easier said than done with little ones and shoes that are designed for outdoor fun, but just a few simple steps will make a big difference over time.
It can be tempting to remove wellies on a step or with the toe of the other foot, but this damages the shoes over time. Instead encourage little ones to use their hands or let you help them out. At Start-Rite our Puddle wellington boots have a handy, built-in heel kick so they can be removed easily without damage. 
Clean them kindly
To prolong the life of your wellies, make sure they're cleaned properly. Clean them after each use as the liquids they come into contact with can begin to alter the appearance of the wellies. Whether this is salt water, mud or grit, which can cause colours to fade and the material to crack. After cleaning wellies with water and a soft brush or cloth, store them in a cool, well ventilated area.
As wellies are designed for wet conditions, it's safe to say you're going to need to dry them out often. The key is to make sure they dry properly each time. If you don't, they could start to have an unpleasant odour and you risk mould developing. The outside is simple, dry with a towel. The trick for the inside is to stuff boots with newspaper and leave for 24 hours to help absorb any water inside. Don't try to dry them in direct sunlight or on a hot radiator as you'll damage them.
What to do with outgrown wellies
If you look after wellies well, they will be outgrown before they're outworn. When this happens and it's time to get a new pair, here's a few ideas of things you can do with the old pair to minimise waste. If the condition good, then pass them on to someone else to give them a new lease of life or donate them to a charity shop.
Another suggestion is turning wellies into planters as part of a fun upcycle project. Make drainage holes in the bottom of the boots, then add a layer of stones to the bottom to weigh them down and help with drainage. Now add compost and plant your flowers or seeds deep in the soil. Keep it well watered and sit back and watch your flowers grow!
Did you know, you can also recycle wellies as most are made from natural resources that are biodegradable? Choose local recycling bins and the experts will make good use of the materials. Never put old wellies into landfill. 
For more information on caring for wellies and all children's shoes, visit the Start-Rite website. To find the perfect pair of wellies, view the collection here.
This article contains sponsored content