Searching for the best toys for kids? You've come to the right place!
Check off their wish lists with our handpicked collection of top toys for Christmas 2023. From imaginative play to retro picks and high-tech wonders, we've got the perfect gifts to make their Christmas very merry and bright!
VTech Secret Safe Diary Light Show £44.99
Unlock the Secret Safe Diary with clever face recognition technology and enjoy a light effect cover that syncs with music. With a large 7cm colour screen, this diary is jam-packed full of engaging features, including virtual pet care, educational activities, voice memo recording, and playful voice effects for kids to explore. Great for kids 6+.
​Hot Wheels Monster Trucks Unstoppable Tiger Shark £45
The Hot Wheels Monster Trucks Unstoppable Tiger Shark with oversized tread attack tyres can tackle various terrains at speeds up to 6mph. A 1:15 scale truck with a full-function remote control and USB charging will make a fab gift for young petrolheads aged 4 and up.
Ice Cream Stand £43.14
Introduce your child to the delightful world of role play with the Janod ice cream stand, perfect for ages 3 and up. This imaginative playset sparks creativity and social interaction, developing verbal skills and dexterity as kids serve up delicious treats.
Speak & Spell £23.90
Top of the list of retro toys making a comeback this year, Speak & Spell boasts classic '80s graphics, sounds and gameplay. This educational toy helps children learn to spell commonly misspelled words using a speech synthesizer. There are five play modes and multiple challenge levels, providing hours of fun and learning for kids aged 7 and up.
Little Town Wooden Toy Kitchen £34.99
This Little Town Wooden Toy Kitchen is perfect for budding chefs, great for role play and brilliant value for money. It comes with all of the essentials you'll need: a sink with a tap, a washing machine, a microwave and an oven, two hobs and a clock with moveable hands. Suitable for kids 3+.
Bitzee Interactive Digital Pet £31
Meet Bitzee, the digital pet you can actually touch and feel. Interact with Bitzee using swipes, tilts, and touch, and nurture them from baby to adult to Super Bitzee by feeding, playing, and showing them love. Collect all 15 interactive animals and unlock surprises as adult Bitzee pets evolve to Super Bitzee. For kids aged 5+.
Yoto Player 3rd Generation £99.99
Designed for kids aged 3 to 12+, the Yoto Play 3rd Gen offers a creative and interactive audio experience. With no microphone, no camera, and no ads, kids of all ages can listen to stories, explore and learn independently in a safe environment. There are hundreds of adventures in the Yoto Card Library just waiting to be discovered!
Bigjigs Toys Junior Art Easel £49.99
The ideal gift for kids aged 3 and up, this Junior Art Easel features a traditional blackboard on one side and a dry wipe magnetic whiteboard on the other.
Micro Sprite Classic Children's Scooter £109.20
The Micro Sprite is the perfect scooter for kids aged 5-12. It's easily foldable with a lightweight aluminium frame, and its smart handlebar with 360-degree steering ensures years of fun for young riders.
Brio Travel Switching Set £84.95
All aboard! Budding train enthusiasts will love this Brio train set. Load passengers onto the train using its special lift onto the blue or red train line. With a battery-powered train, multiple passengers, two platforms and clever switches, little drivers aged 3+ will love to be in charge.
Bio Beasts Beast Lab Shark Kids' Activity Toy £89.99
Unleash the Havoc Hammerhead or Mayhem Megaskark in the Beast Lab using the Beast Creator, with over 80 lights and sounds that'll bring this super-fun science experiment to life. Suitable for kids aged 5+.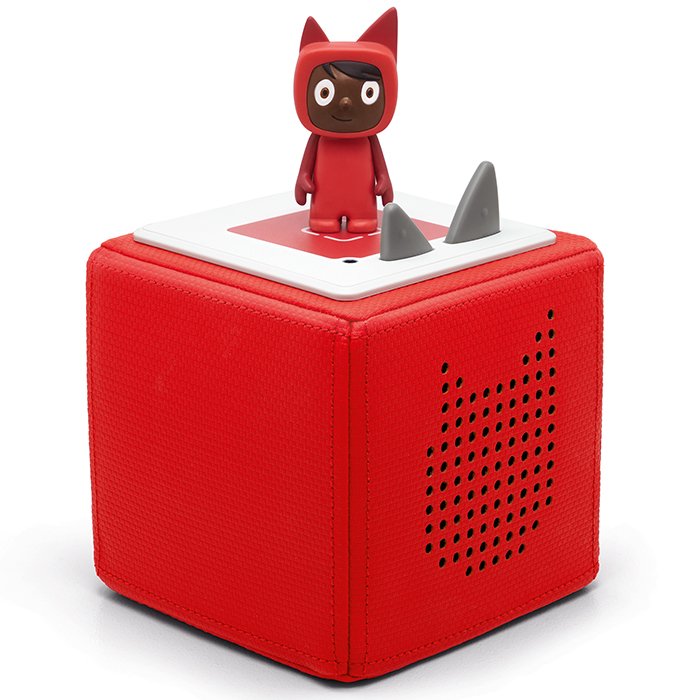 Toniebox Starter Set £79.95
The Tonie Starter Set is your ideal introduction to the wonderful world of Tonies' audio fun. With its toddler-proof design, the Toniebox and its huge range of characters will foster a love for storytelling and music that's safe and age-appropriate. Choose the stories you love in the Tonies Library. Great for little ones of all ages.
Studio Creator Photo Creator Instant Camera £64.99
The Photo Creator Instant Camera is a compact and stylish device that lets young kids capture memories and create fun photos and video content. With photo filters, video recording, and print customisation options, it's brilliant for enjoying moments with family and friends. Recommended for kids 8+.
Little Dutch Puzzle Clock £14
Crafted from wood, this puzzle clock is the perfect way to teach your little ones to tell the time. Each piece is beautifully illustrated with numbers and animals, so it's super fun for toddlers and educational for young children too!
Voxblock Starter Pack £59.99
Recognised as the Best Kids Audio Player for Ease of Use by both The Independent and The Evening Standard, this screen-free audio player for kids requires zero connectivity. All you have to do is charge it, and it's ready to roll. Voxblock's audio library is aimed at children 3 and up, with new stories being added all the time.
Furby Hasbro Purple Interactive Toy Plush £59.99
Meet Furby, the ultimate interactive toy that talks, dances, and responds to your voice with over 600 delightful surprises. With voice-activated modes, cool lights, and shareable accessories, Furby is billed to be one of this year's top toys for kids, offering kids aged 6+ hours of fun and friendship.
Ski and Climbing Centre Sports Set 60366 £71.99

Get ready for year-round winter stunts and adventures with the LEGO City Ski and Climbing Centre, ideal for kids aged 7+. This set includes a 3-level modular building with a ski slope, climbing wall, winter-sports shop, café, and a working ski lift, along with 8 minifigures, animal figures, and loads of winter accessories for endless fun.
Lilliputiens Little Red Riding Hood Magnetic Theatre £35.50
Children can bring the story of Little Red Riding Hood to life with this adorable magnetic theatre. The wooden characters, Little Red Riding Hood, the grandmother, the wolf, and the hunter are easily brought to life using magnetic sticks. The double-sided backdrops let kids get creative with different scenes for storytelling fun. Suitable from children aged 3+.
Janod 50-piece Brico'Kids Construction Set £23.49
Janod's 50 wooden piece construction set gives kids aged 3 up the opportunity to get creative as well as fine-tune their motor skills. Little ones can make a plane, a motorbike, a dog, a boat and a scooter. There's also a handy barrel for storage and transport, so kids can take it anywhere.
Studio Creator Video Maker LED Deluxe Kit £40
This Studio Creator set has got all the good stuff for making your videos pop! With a cool 12-mode colour LED ring light, an adjustable phone holder, tripod and green screen for added pizzazz, it's time to get creative! Plus, there's a 5-metre strip of snazzy LED lights and a nifty wireless remote to set the mood. For kids aged 8+.
All-new Amazon Fire HD 10 Kids Pro tablet £199.99
Designed for kids aged 6 to 12, the all-new Amazon Fire HD 10 Kids Pro tablet is 25% faster than the previous model with a 10.1″ 1080p Full HD display and robust parental controls. Set screen-time limits, educational goals and more from your phone while interactive apps and content cater to both learning and creativity.
Raleigh Pop – 12-inch wheel kids bike £179.00
Nothing beats a shiny new bike under the Christmas tree! This 12-inch Pop bike is a great first bike designed to support kids aged 3-5. With its lightweight but sturdy construction, the Pop is a great introduction to the wonderful world of cycling.